By Mike Wallberg, CFA
In recent months we partnered with Treasury Strategies to produce a thought piece on the importance of intelligent pricing. This set the stage by highlighting the opportunities and stakes of banks (not) seeking "pricing excellence." As we see it, there are four stages to achieving pricing excellence: devise a strategy, execute the strategy, monitor and measure results, and revise once you see what happened. So we've followed up here with a deeper dive on stage one: devising pricing strategy. Check out the original collaboration, Pricing excellence in corporate banking: The pressure is on.
"In order to develop a successful strategy, you have to have an organizational structure that makes pricing and revenue management a priority for the organization."
This statement provides a succinct summary of the first pillar of a successful pricing strategy: institutional buy-in. And it comes from subject matter expert, Chrystal Pozin, a consultant with Treasury Strategies who has helped banks tackle pricing strategies for over 15 years.
To drive this change, "you need to have someone who is senior enough to create and drive the strategy but then you also have a structure … that will drive the governance of it, " she said. "The processes, the metrics, the controls around it."
Earning that senior management support for any system or process change – both in deed and in dollars – requires a clear business case, though. CEB TowerGroup suggests more flexible product design and execution lies at the heart of enhancing enterprise billing and pricing-related revenues by reducing revenue leakage, improving service and transparency and by facilitating better data management.
That's not all. They also consider critical characteristics to include:
Broader operating efficiencies as other technology modernization initiatives better integrate with EP&B capabilities;
More flexible reporting;
Greater ability to develop predictive analytics;
Product innovation without IT intervention;
Faster time to market and easier implementation with other LOBs of pre-packaged pricing and billing bundles; and
Easier integration with outside vendors and partners.
So there is a lot to recommend a smarter pricing system. But where to start?
We asked Zafin's Executive Consultant, Des Farrell, who spent over a decade working on strategic pricing and billing strategies and revenue realization for RBS. His operational roots peaked through.
Think outside the deposit box
"Pricing strategy of itself cannot be some amorphous separated construct," he said. "Pricing strategies have to be connected to a bank's wider strategic and operating models and they need to be clearly articulated, preferably as simply as possible and in forms that can be easily operationalized."
Dave Robertson, a partner at Treasury Strategies who heads up their financial services practice, would agree, noting that the more product-led a bank's strategy is, the more critical the need to align operational strategy.
At a minimum, Farrell says banks need to build tools that ensure regulatory compliance and mitigate conduct risk – all with an eye to bolstering profitability.
This may mean building product catalog capabilities to replace fraught spreadsheet-dependent processes. But beyond retiring Excel, Farrell advocates an approach to profit maximization he calls, "target pricing thresholds," which he sees as an improvement upon more traditional cost and profitability models.
Pricing for profit (and risk)
Target pricing thresholds bring a new level of sophistication to your pricing strategy that anticipate and respond to changing delivery costs, client volumes, and other factors.
Perhaps a client adopts a lower-cost delivery channel. Under a target pricing threshold strategy, a bank might offer price declines to this client over time. Conversely, a client that has declining volumes might see its pricing creep up in response.
"The advent of Big Data and the lower costs of developing and maintaining client product and pricing metrics should enable banks to develop target pricing benchmarks, potentially at very granular or segmented levels," Farrell said. "These can then be used to drive and guide execution of future pricing and revenue strategies."
Unfortunately, this dynamic model is beyond the scope of many banks, who fail to meet even the basic connection between pricing and profitability in a meaningful way. The result is that in the heat of competition or in responding to sales volume- or retention-based incentives among sales personnel, low margin or even loss-making pricing can be offered.
As a starting point, Farrell advocates at least pricing based on the marginal cost of services rendered. He points to the example of two Retailers: one that pays significant cash into one branch, the other paying the same amount but spread across many branches. Retailer 1's flows may require a new hire to handle them all whereas Retailer 2's smaller asks across the network may be more easily absorbed. Translation: Retailer 1 costs more in real terms, so should it pay a higher price?
Robertson adds that it's not enough to just price for margins. Banks also need to adjust their pricing to account for risk.
"Now banks … need to be more disciplined in the type of work they bring in and then the degree to which they incorporate risk cost and other factors into the pricing. It's not like the old days where everybody just kind of jumbled everything together. There has to be a lot more differentiation in the price points."
People power
Implementing more profitable pricing is easier said than done, and may sometimes be a 'hard sell' to the sales community, but it's critical. It's not enough to develop a strategy that is theoretically perfect from a marginal cost perspective alone. Or an operational one. Or a customer centricity or growth orientation or branding one. You need a strategy that will be implemented because it has buy-in from the top-down and from the front line to back office.
"Banks can have the best central pricing strategy ever, but if they don't have a way of engaging the sales team, it falls apart and fails," Robertson said. "So one of the areas we've really been focusing our bank clients on is really getting the right collaboration between sales and product – not as adversaries but both having a common goal. You're better off with a mediocre strategy that is really well-executed with collaboration between sales and product than with a brilliant strategy that is disjointed between the two teams."
Owning it
One way to bridge the divide is to clearly define – and own – the bank's value proposition. The sales person's job can be made easier when she is armed with a clear explanation of why pricing actually fully reflects the value that the bank is bringing.
Absent that buy-in, you run the risk that a sales call goes as disastrously as Robertson imagines: "'Hey, I really don't want to give you this price increase but Product told me to give it to you, and I'm sure you don't want it and you're probably going to threaten to take it out to bid unless I remove it…' So yes, the client will threaten you – and yes, the salesperson will go out and get it removed."
At the outset of any pricing discussion, he says, "If you're not articulating your value to your client and you're not selling based on value, by definition, any price is going to be looked at very critically."
So don't go in at a deficit. Go in with confidence. "All of this starts with a confident bank that knows its value and is confident about its value to the customer," Robertson continues. "Be confident in conveying the value of delivering, and what you'll do with the profits… [that] it funnels back into enhancing development and servicing, including the sales support that creates so much value for the client."
Robertson's TS colleague, Jim Poteet, develops this theme in a recent webinar. "It's hard to increase prices on a commodity relationship," he says. "Identify where value is being created and charge accordingly. That could be quality of execution, share of mind in advisory relationships, what credit positions you hold, business intelligence you bring to your client… all of those things need to be considered, both from your perspective as well as your client's perspective."
And while it may seem counter-intuitive, don't be afraid of losing clients.
"Anecdotally, I've only heard that we've had zero clients leave because of a price increase," Treasury Strategies' Chrystal Pozin said. "I've had multiple clients say that to me. And if they did leave, it was because of something else."
Key takeaways
There is tremendous opportunity once you commit to pricing like it matters – and the starting point for that is developing a pricing strategy.   Some key advice along the way can be found in Figure 1.
Figure 1: Best practices for attaining and maintaining pricing excellence
***Click the image to expand.***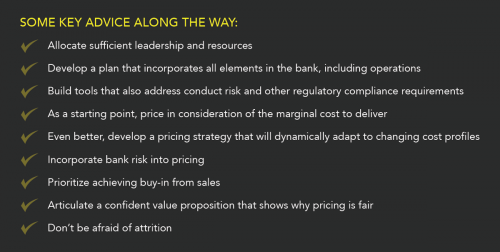 Source: Zafin
"It's really about having a great strategic story," Robertson observes, "and then having the quantitative discipline and the governance underneath it."