By Zafin Editorial
Introduction
Banks face many challenges to delivering excellent customer experiences through their product, pricing, and loyalty management capabilities – pillars of their Retail and Commercial value propositions.
But we shouldn't forget another key role many banks play: that of custodian, providing a range of services for individuals and firms including the safekeeping of securitized assets, settlement, lending, and FX facilities. The revenues from such services can be significant, but maintaining revenue and profitability levels in the current competitive and regulatory landscape can be challenging. These challenges (and opportunities) can be even greater for those banks providing custody services on a global basis.
While custodian banks have been investing in commercial off-the-shelf or in-house-developed solutions for trade and service execution, many have failed to implement systems to effectively collect attendant revenues. The resulting leakage of unbilled and uncollected revenues can then significantly impair profitability.
Coincident with increasing complexity of custody services and securities instruments are intensifying regulatory oversight and client expectations, thus requiring better and more transparent pricing and billing. The pressures for change, then, are external as well as internal imperatives.
Situation report
Many custodian banks continue to grapple with major issues relating to improved pricing and billing. They include:
The inability to provide automated pricing and billing for all products, services, and instruments, especially in relation to corporate actions and related specialist services;
The inability to provide relationship pricing encompassing all of the custody accounts or arrangements large clients maintain;
Pricing decision-management processes that are highly manual (spreadsheet-driven), operated with minimal pricing benchmarks (either standard or peer client models), and without robust governance capabilities; and
Invoices that lack transparency and accuracy, and can't surface detailed pricing and charging information without arduous manual intervention.
These factors are preventing many banks from successfully balancing the demands of customers and regulators with the pressures for higher revenues and profitability. And for some the situation may well become unmanageable as pressures on all sides increase.
Taking a closer look
New regulations such as: T2S (Target2Securities), AIFMD (Alternative Investment Fund Managers Directive), UCITS IV (Undertakings for the Collective Investment in Transferable Securities), and FATCA (Foreign Account Tax Compliance Act) are hiking operating costs and risks for banks. The new transparency and suitability mandates require banks to keep customers informed about product/service offerings and charges incurred, and provide an audit trail to customers and regulators to establish "fairness," if required.
In addition, product ecosystems are becoming more complex, requiring an increasing number of products and services to meet the needs of clients. These broadly fall into four categories:
Settlement. This refers to transaction processing for domestic and foreign trades in equities and fixed income, including foreign exchange and securities.
Safekeeping and portfolio management of assets. This could be in electronic (securitized) and paper form.
Corporate actions and taxation services, including:
Income processing and corporate actions;
Handling of income (interest/dividends);
Notifying holders of bonus issues, stock splits, rights issues, takeovers, and proxy voting rights; and
Tax regulation monitoring, tax documentation processing, foreign tax reclaim processing, tax exemption and reduction at source.
Recordkeeping and reporting. This refers to providing reports on portfolio holdings and the status of transactions to the owner of the securities.
In addition, custodians often provide fund accounting, administration, legal, compliance and tax support services for mutual fund clients.
Pricing for these products, particularly from a relationship perspective, requires a wide range of fee algorithms for transactions, events, subscriptions and asset valuation, including interest calculations for lending or guaranteed settlement services. Ideally, it would be possible to perform differentiated pricing calculations according to the underlying nature of the instruments and the markets in which they are traded. For example, over-the-counter transactions for equities in the Americas may be charged at 0.2% and at 0.21% in the European market, subject to any amount caps. In the future, price differentials will be benchmarked at the security (ISIN) level.
Moreover, legacy invoicing platforms cannot keep pace with the introduction of new corporate action or related services. Some banks are compensating for their inability to deal with the pace by 'loading' the fee basis point rates for Assets-under-Custody to cover additional services. But, of course, this counters the growing imperative for transparency and, in reality, is typically only done for larger volume clients. In any case, it is highly likely that significant revenues will be left on the table.
In some cases, there are inherent gaps even in the way the bread and butter Assets-under-Custody calculations can be executed. For example, calculations based merely on the month-end position, rather than the average holdings during the safekeeping period, may not be truly representative.
These issues have a significant impact on pricing decision management and the way information can be presented in invoices. If the product and service pricing cannot be configured at the required level of granularity, then custodians typically only have the option to manage and communicate client pricing through the use of spreadsheets. But without automated approval logic that is based on the pricing policies and strategies of the bank, then governance will suffer and there will be greater risk of errors of omission or commission when translating pricing decisions into the execution systems – a potential area of major revenue leakage.
Likely required capabilities
Moving from spreadsheet-based pricing and charging to a completely automated model can go a long way to enhancing productivity and profitability. Pricing governance automation limits revenue leakage; monitoring becomes easier; and manual errors are reduced. Robust automated pricing and governance systems typically include the items in Figure 1.
Figure 1: Required capabilities for robust, automated pricing and governance in custody services
***Click the image to expand.***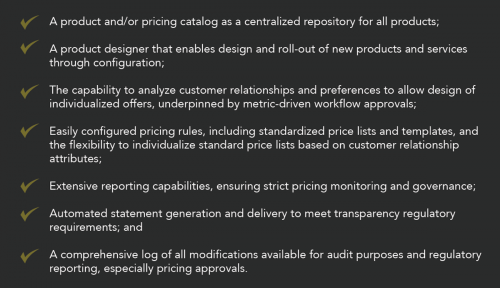 Source: Zafin
The automated pricing and billing solution, supported by clearly defined pricing policies and price governance mechanisms, are crucial to achieve targeted revenue and profitability growth.
Key takeaways
Falling revenues, cost pressures, increasing regulation, and expanding customer expectations are placing unprecedented stress on custodian banks. Those banks seeking excellence in product/service delivery will move toward a client-centric approach and away from the current custody-centric mindset. Custodians must continue to upgrade their current platforms and offer flexible solutions to deliver competitive and differentiated services. A well-constructed, automated pricing and governance system, accompanied by streamlined pricing policies and procedures, are critical to maximizing their revenue and profitability streams.